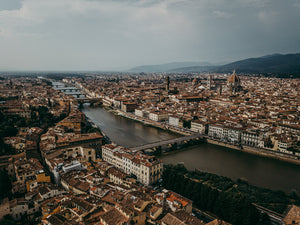 The story of a Tuscan family
At the gates of the legendary 60s in Florence, in Tuscany, bags e leather shoes are a routine purchase for the wealthy class. For all other families, on the other hand, are precious relics to protect: shoes in particular are used on special occasions - weddings, communions etc - and are "transmitted" from father to son, from generation to generation.
1960
Rinaldo and Dora: the forerunners
Rinaldo starts his business as shoemaker in 1960. An inastimable job that allows him to breath new life to shoes of Florentine citizens.
Behind every successful man, there is always a woman. Rinaldo's wife, Dora, helps him amusing their lovely clients while he is taking care of hides and scissors. Hard work, efficency and experience are the ingredients that convert this shop in a real place of gathering.
This magical place has what it takes to grow so, Dora takes advantage of the opportunities and starts a new venture about accessories and products for the leather care.
1975
Angela: the pioneer
This beautiful story continues with Angela, Rinaldo and Dora's niece. When she was just a child, the shop seemed to her like an enchanted world full of smooth leather pieces, bright golden studs, colored laces, special parfumes and, of course magical creams that turn everything shiny.
In 1975 Angela takes over the business activity of her lovely uncle and aunt. She is ready to continue her family tradition without no doubt or fear. Her experience, high quality and knowledge cross borders of the beautiful city of Florence reaching nearby cities and towns all over Italy. Cuoieria is officially born! Today, this family business reaches an international online market thanks to its customes all over the world.
2008
Niccolò: the dreamer
We can consider Niccolò, Angela's son, the great dreamer of this family business. His dream has come true!
Since his childwood, Niccolò grows up surrounded by the passion and the enthusiasm that his mom puts in her job. Starting from working on Saturday afternoon while he is studing, Niccolò enters in this magical and shiny world made of leather. In 2008 he combines his passions and it is when the Florentine tradition meets the digital context. The result? The creation of two e-commerces, the first one about luxury bags and the second one of leather care products, Cuoieriashop and Cura della Scarpa.
VIAVERDI: A LOOK TOWARDS THE FUTURE
In 2021 comes ViaVerdi from the genius of Angela, Niccolò and Giada, his wife. The idea is born from their passion, a dream about the creation of timeless leather bags that now has become true. Each seam and every slice of leather evoque memories, a piece of history that you can pass on to your children. ViaVerdi is the soul of an entire family, you can feel the Rinaldo's love when he decided to start this passionate journey. It is all about tradition, Tuscan handicraft. The Italian lifestyle never gets old.